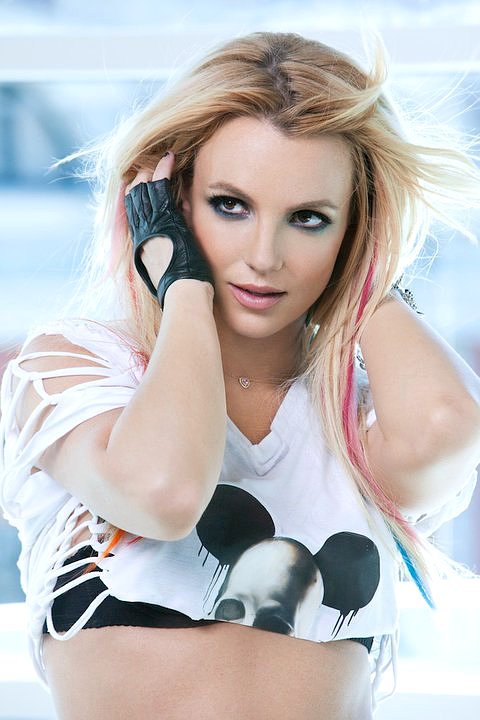 Britney Spears

has finally premiered the video for her third single, 'I Wanna Go', thus showing us that, although her dancing is not up to par, her personality can do wonders!
Starting the video off, a hardcore, Avril Lavigne-esque dressed Britney is bombarded with a bunch of questions at a press conference. It is not long before she loses it and responds to them

:"F*ck you, F*ck you, F*ck you, You're cool, And f*ck you. I'm out…"

.

She then walks out, molests a young fan, and flashes herself in public to get a cops attention. Luckily, he gets more than what he bargained for, and Britney leaves with his handcuffs.
The Holy Spearit then poses it up for a pap before losing it and breaking his camera. She's then surrounded by a few after climbing on top of a taxi's roof, and before you know it, lashes out to them with a mike, knocking each and every one of them down. Across the street is a

marquee of a cinema

besides her 'Crossroads 2: Cross Harder', thus making fun of her critically-panned (yet they praised her performance) film debut 'Crossroads'.
After the paps get back up revealed to be terminators, their eyes are red and their faces are bursting with wires, thus referencing a scene in 'Terminator 2: Judgement Day'. Out of nowhere, actor

Guillermo Díaz

arrives to save the day. While on the road,

Guillermo

shockingly gives himself a milk facial, which is obviously part of the song's theme (masturbation) and adds to the hilarity of the video. She sees his chest sparkle and pulls his jacket open, revealing that he is also a cyborg. She wakes up from her daydream and

Guillermo steps in to take her, turns around, and laughs with red eyes at the camera, thus referencing Michael Jackson's iconic music video 'Thriller'.
The video was nothing short of brilliant and is stamped with Britney's personality. We've never seen the star so lively since her 'Toxic' days, and we hope that she continues to make satirical videos like these. It included many pop cultural references, such as her debut film 'Crossroads', 'Half Baked', and Michael Jackson's 'Thriller'. With all of her personality covering up her dancing flaws, there is a glimmer of hope left for the return of Ms Spears.
Watch the personality-driven video below.