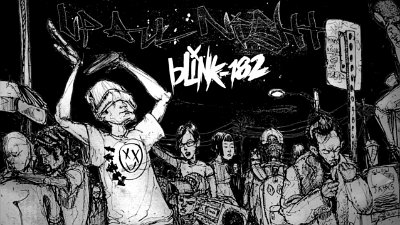 I'll be honest with you! Although I loved

Blink-182

, I've never listened to their albums or bought it (give me time to do it). However, I do now a bit about their sound and know that their new album will smash. The duo have decided to come out of their 6-year hiatus and has released their latest single, 'Up All Night' from their upcoming album, "Neighborhoods".
Backed up by striking guitar riffs, the song fuses elements from Angels & Airwaves with their pop-punk sound, starting off with a dark undertone before finally tranforming into the normal pop-punk sound that made them famous. The song then translates back into a darker tone after the song's hook. It's really something special, and polishes their punk sound with a rockier and much more modern sound, and shows that they've also matured lyrically.
Blink-182 was also interviewed and spoke about the upcoming album, which could drop September 27, 2011 alongside their Summer Tour.
On the album & tour:

"We didn't think we were gonna be big," he explained. "We were literally writing songs about each others bodies in a bedroom in San Diego. When we wrote songs about our genitals, we did not think it was really going to be so touching to the masses."

[Tom DeLonge]
Reflecting on Early Career:

"We'll release a bunch of music before the tour and we'll be dropping the album smack bang in the middle of the tour, sometime in September. The name I want really bad I saw on a adult film list at a hotel. Not that I watch them, or have the audacity to read the titles. But I did."

[Tom DeLonge]
You can listen to the interview and song below the jump. Props to Gowhere Hip-Hop.