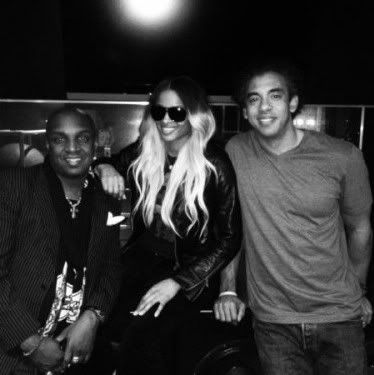 Ciara

is not playing around with her career anymore! This week, the singer was snapped in studio with Harvey Mason Jr and Damon Thomas, who are apart of the production duo The Underdogs. They currently enjoyed a top 10 hit with

Chris Brown's

"Turn Up The Music", which they produced with Fuego.
The singer is preparing to release her Epic Records debut, a few years after her latest album, Basic Extinct, debuted at a high peak of No. 44! Can she top this by debuting higher? I wouldn't be surprised if she does.
All she needs are hot producers and songwriters to craft hits for her. The thing is that Ciara is mostly involved in the songwriting process. She lost her sound and image after 'Fantasy Ride' and should have kept her tom boy image until she was ready to evolve even more. 'The Evolution' was Ciara's way of showing that she can be innovative and show growth simultaneously. "Promise" is still that jam!
It's about time she left Kim Kardashian and put more focus in her work. She should release mixtapes to keep the hype up, change her image, and get a new choreographer. The Matrix can only be done so much before gravity pulls you to the floor, Cici!