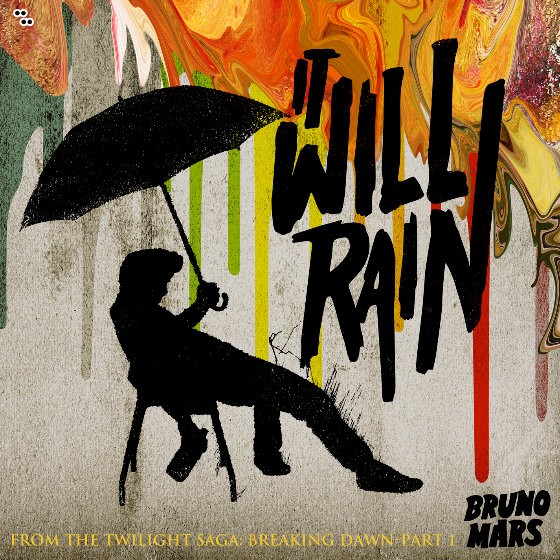 Bruno Mars
is ready to release music. Don't get too excited thou – the single won't be off his new album.
The 'Grenade' singer has opted to partake in the Twilight series by releasing the first single titled
"It Will Rain"
from
"The Twilight Saga: Breaking Dawn - Part 1 Original Motion Picture Soundtrack"
, which will be released 8th November 2011, ahead of the movies release on 18th November 2011. The single will be released worldwide on iTunes on September 27, and in the
U.K.
on October 31. The single cover was revealed and shows a laidback Mars sitting under an umbrella, surrounded by colourful shades of paint dripping down.
"Remember that song I told yall I finished? Well its called It Will Rain #ComingSoon," he tweeted. He says "after seeing the movie, I thought that it would be a perfect fit.". Mars says that "the 'Twilight' movies for me (are) a love story. But it's a dark love story. And I think the best way to describe the song is: it's the darker side of love. I think that pretty much sums it up."
He even spoke about the songs conception: "It Will Rain" "started off with me and the guitar," Mars says, "and I just had this melody in my head and basically laid it down after I saw the film." Mars also got to see "most of the movie" so he "could catch the vibe and feel where they were going with it." He even showed off a bit of his humorous side by saying that he doesn't know where in the film the song will be heard. "I have no idea! As long as it's not after the credits. I hope it's in a good (scene)!"
Well, I can't wait! You know Mars always delivers great songs but I love darker tunes and always love the lead singles from the Twilight
soundtracks
.

Source: [Billboard] [MTV] [Ace Showbiz]