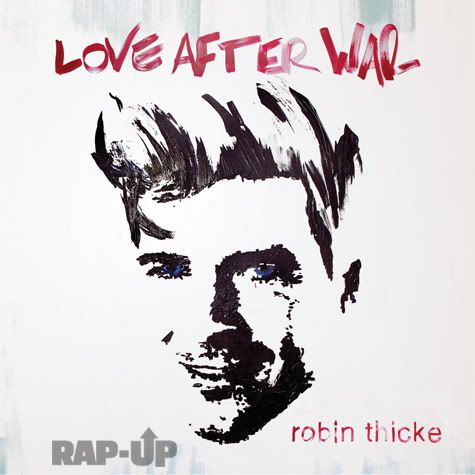 Robin Thicke
really wants 2011 to be all about the baby-making. The "blue-eyed soul boy" revealed the cover for his fifth studio album,
"Love After War"
, which features a portrait of his face with his blue eyes being the focal point.
The album will be released as a 17-track standard and 20-track-deluxe version. The scheduled date for release is December 6th, 2011.
The crooner also released his new single,
"Pretty Lil' Heart"
, that features the omnipresent
Lil Wayne
. It's a soulful track plastered with light keys, sexy guitar chords, and striking horns, which alleviate the sexiness of the song once Robin uses his softy-layered vocals over the breezy tune.
I smell a winner of an album! Urban radio is going to spin this record like crazy!
Track listing
1. An Angel On Each Arm
2. I'm An Animal
3. Never Give Up
4. The New Generation
5. Love After War
6. All Tied Up
7. Pretty Lil Heart feat Lil Wayne
9. Tears On My Tuxedo
1o. Boring
11. Lovely Lady
12. Dangerous
13. Full Time Believer
14. I Don't Know How It Feels To Be U
15. Cloud 9
16. The Lil Things
17. What Would I Be?